9 Top Digital Photography Schools for All Levels
Are you looking for high-quality digital photography schools, but haven't found the one that suits your needs?
Many photography resources on the internet only touch the skin of a subject, without structured lessons and guidelines. For more in-depth resources, digital photography school is the way to go. But with so many schools with varying features and prices, how do you choose the perfect one?
For your convenience, we thought we'd help you do the work and review some of the top schools and resources, including the prices, learning type and materials, course length, and the general summary. Hopefully, this will make it easier for you to choose the best digital photography school for you.
---
CreativeLive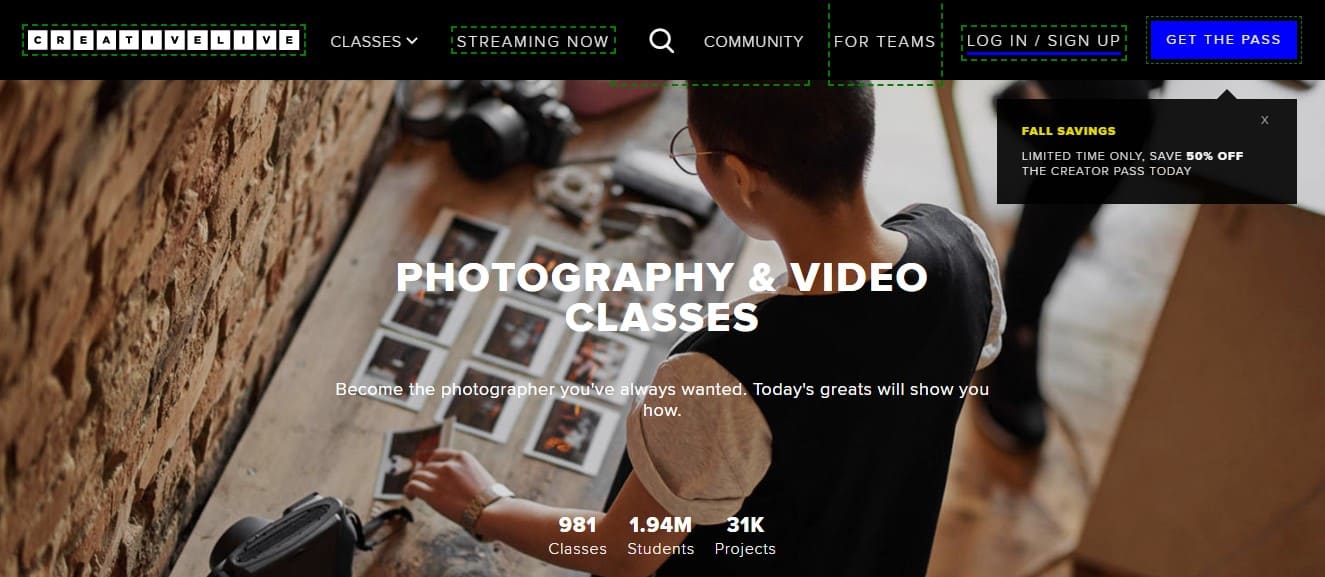 CreativeLive is a one-stop school for creative souls, which is much reflected in the name. The section 'Photography and Video' offer extensive resources for various types of photography, for different levels. From wedding photography, travel photography, iPhone photography, newborn photography, or portrait, CreativeLive caters to anyone who is looking to learn photography in general or any specific type. Additionally, CreativeLive also offers classes for Photography Business, which teach both technical and entrepreneurial materials.
Classes on CreativeLive can be watched for free on live streams (make sure to keep an eye on the workshops schedule!), but after that, you have to pay if you'd like to have access to the materials. The price for each course varies, but for a more economical option, you can buy a photography bundle that consists of several classes. This option is also good if you don't know where to start or what class to take, seeing the classes offered in bundles will give you ideas of what you need. There are a wide variety of bundles offered, which means any kind of photographer on any level can learn here.
Recommended for: Hobbyists, professional photographers
Learning type: Self-guided
Learning materials: Videos, articles
Course length: Vary
Fee: Free for live streaming, prices vary for each course
---
PHLEARN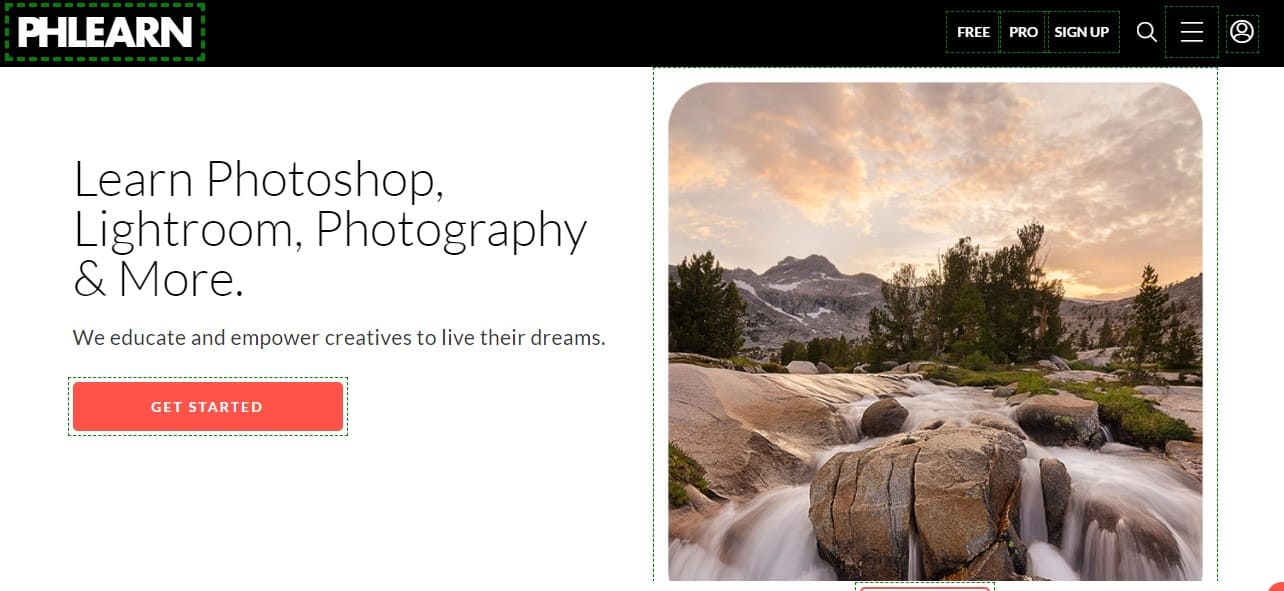 PHLEARN prides itself as the #1 Photoshop training site in the world, with more than 600 tutorials. True to its reputation, most of PHLEARN materials focus on post-production, primarily on photo retouching and manipulation. From fashion to travel, the guides for retouching are extensive and detailed. Not just Photoshop, PHLEARN also provides learning materials for Lightroom, such as using graduated and radial filters, refining images, and correcting overexposed images. Additionally, it also sells various Lightroom presets which are available to download immediately after purchase.
Although the main focus is post-production, PHLEARN also provides materials for photography skills with creative ideas, such as levitation, tweaking lights in photos, and the fundamentals of compositing. There's a good deal of free tutorials available, although to have access to more advanced materials, you'll need to subscribe or buy the tutorials individually (prices vary).
Recommended for: Hobbyists, professionals
Learning type: Self-guided
Learning materials: Video
Course length: Vary, from 15 minutes to 30 hours
Fee: Some of the materials are free, while others can be accessed with an individual purchase (prices vary for each course), or by paying a subscription fee of $9.95/month
---
Jerad Hill's Courses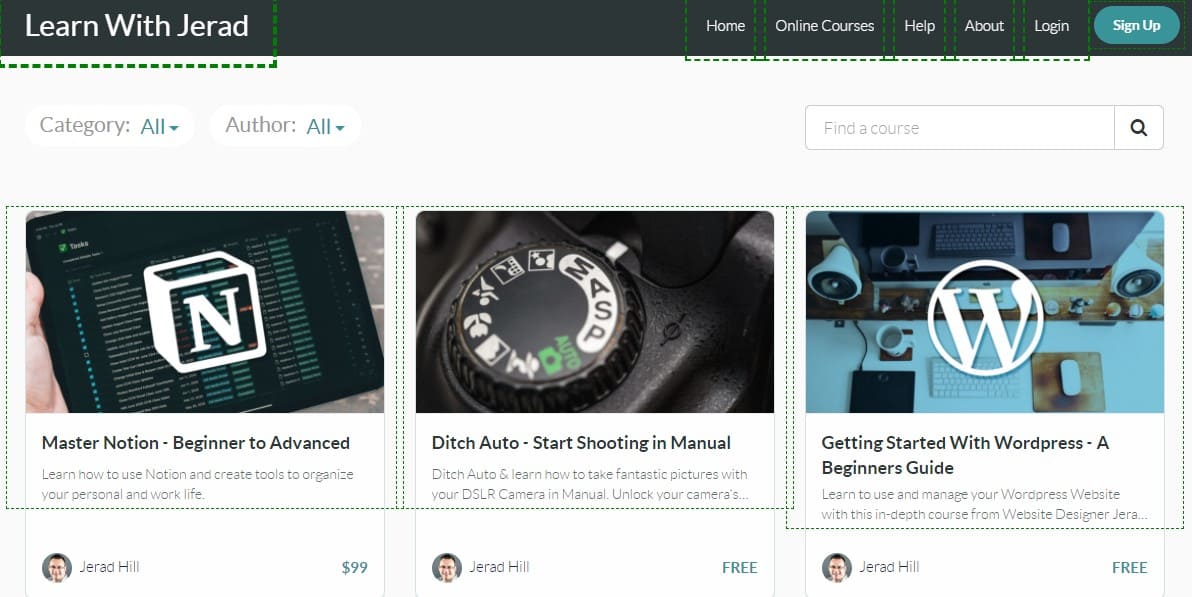 If you just start learning about photography and want to know the basics of photo editing, Jerad Hill's Courses might be what you need. Most of the courses are short and to the point, focusing on post-processing in Adobe Photoshop and Lightroom, including the workflow. Compared to the others, the options are quite limited, but it's perfect for someone who wants to learn the basics. This website also provides a few courses about social media for business and getting started on a website. Most of the courses are free, and only a few require you to pay, costing $19.
Recommended for: Beginners, bloggers
Learning type: Self-guided
Learning materials: Video, articles
Course length: 30 minutes – 4 hours
Fee: Free, with the exception of a few courses that cost $19
---
Udemy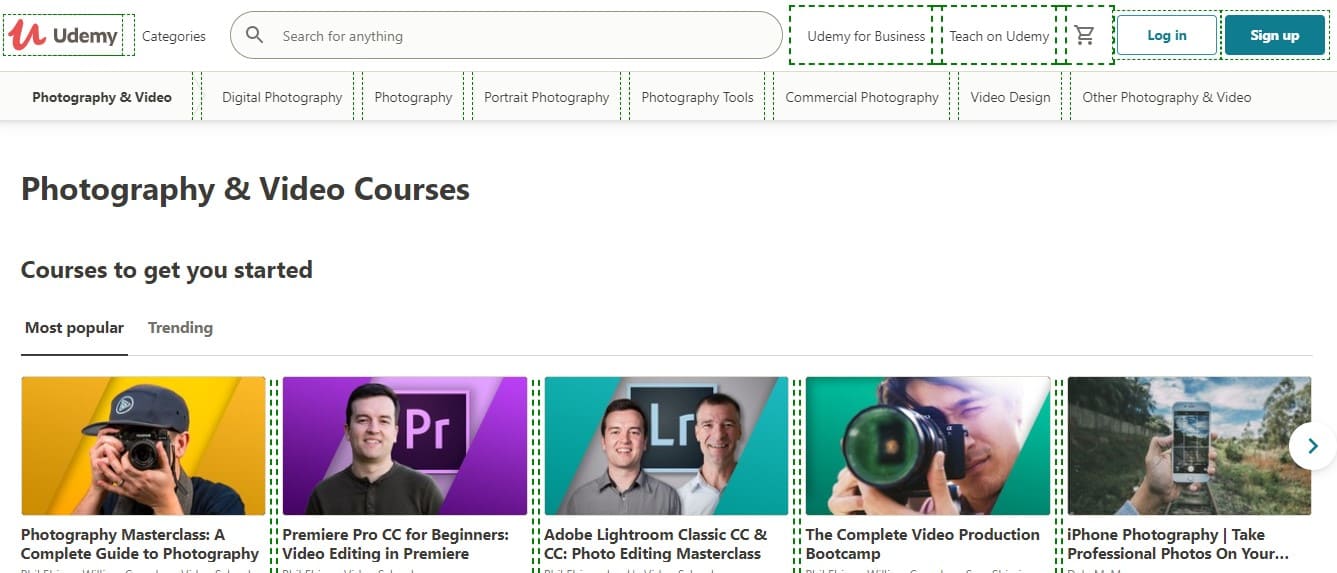 Udemy is an online learning platform that provides learning materials for various fields, including photography. The courses can be purchased individually, with some courses starting at $10. The purchase of the course allows you to have lifetime access, and you can learn at your own pace as there are no deadlines. Some beginners courses are offered for free, like Photography: Ditch Auto – Start Shooting in Manual and Lightroom 5 Photographer Workflow. Whether you're a beginner, hobbyist, or professional, you can find materials that suit your needs here.
Recommended for: Beginners, professionals
Learning type: Self-guided
Learning materials: Video, articles, assignments
Course length: 1 – 20 hour(s)
Fee: Some classes are free, but the others vary according to the courses, between $10 – $200
---
Lynda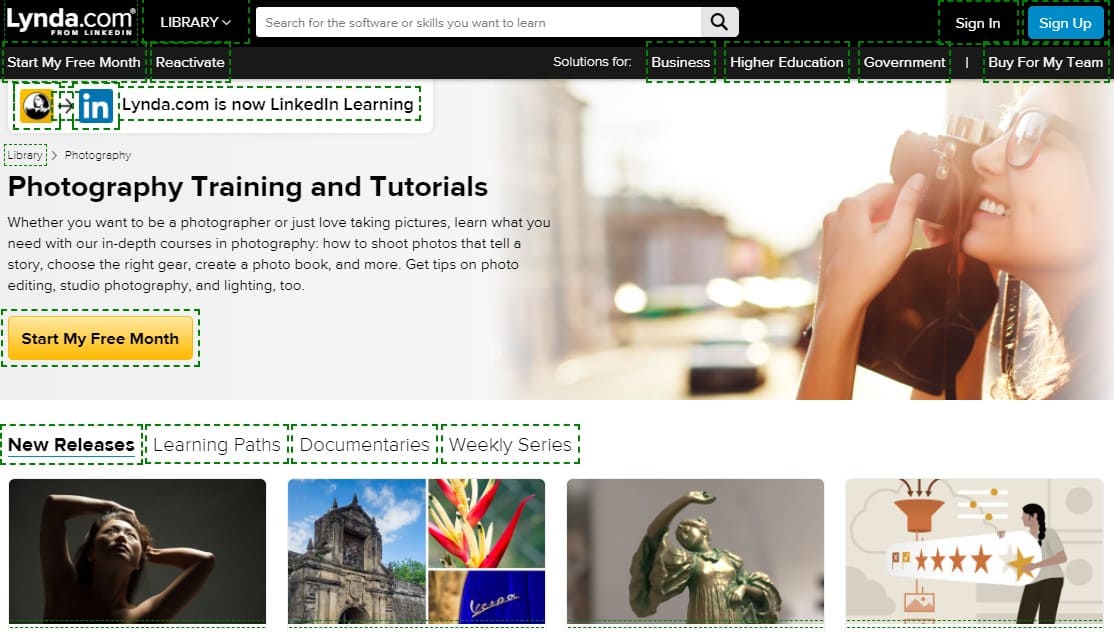 Lynda provides a comprehensive range of photography courses, with more emphasis on advanced learning materials. From techniques, post-processing, software, and gears, Lynda covers everything one needs to know about photography. What differentiates Lynda from others, though, is the structured Learning Path that students can opt for. Having structured lessons for self-learning is incredibly helpful, especially for those who need more guidance in choosing what materials to learn.
Whether you want to focus on becoming a photojournalist, a portrait photographer, or a photo retoucher, Lynda has put together structured lessons for each path to help students navigate through the learning process. Additionally, Lynda also has Weekly Series, where a short video is released weekly for each of many different topics. With a $25 monthly membership subscription, you can have unlimited access to all the materials. However, to be able to download the project files and learn offline, you need to choose the premium membership ($37/month). With the amount of membership fee, it's more valuable to access the advanced materials (which are particularly good), rather than the basics.
Recommended for: Advanced photographers, professionals
Learning type: Self-guided
Learning materials: Videos, exercise files
Course length: Varies
Fee: $25/month, or $37/month for premium
---
Kelby One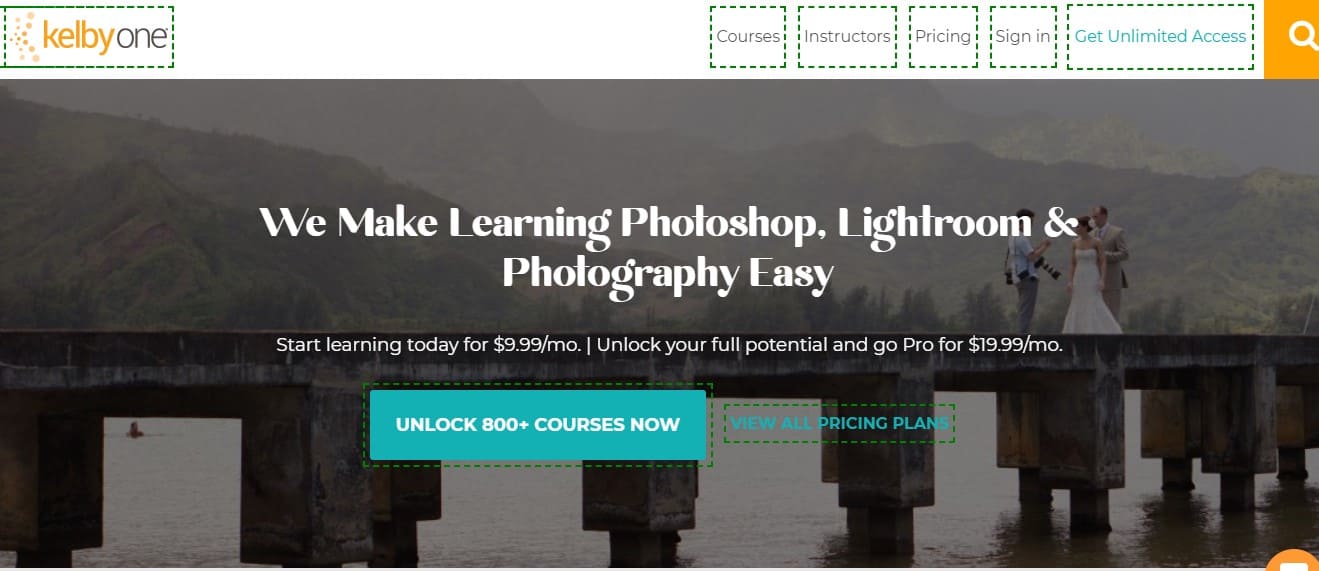 Kelby One offers various in-depth photography courses for anyone who wants to learn photography, from beginners to professionals. The courses cover diverse areas in photography such as gears, software, techniques, and also specific courses for portrait, landscape, and wedding photography, among many things. Business & Marketing courses are also provided for photography entrepreneurs. New classes are released on Thursdays, as well as live Webcasts, which allow students to interact with the instructors.
Kelby One is equipped with a structured learning management system which enables students to look for the courses that suit their needs, and also keep track of their study. A thing that stands out is the one-on-one help that is available should students have any questions. They have developed an app for the iPhone (an app for Android is still in progress), which makes it more convenient for students to learn.
Recommended for: photographers on any level
Learning type: Self-guided
Learning materials: Videos, practice files
Course length: Vary
Fee: $19.99/month
---
Tuts Plus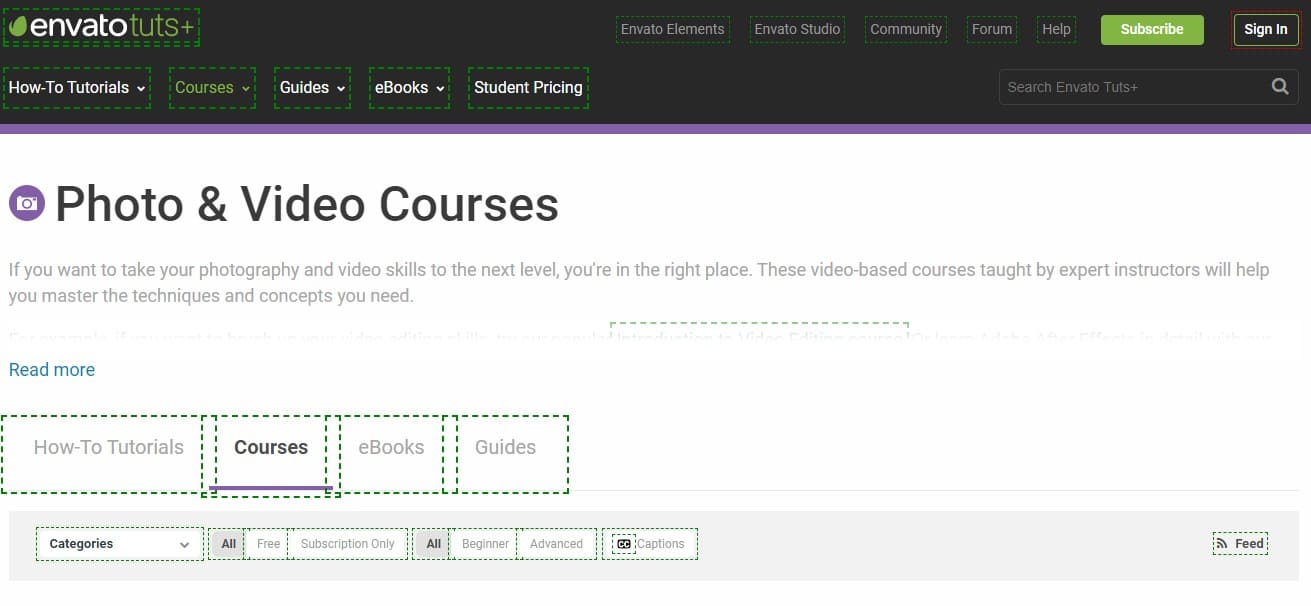 Most of the courses in Tuts Plus require you to pay a monthly membership fee to access, but it also has free tutorials and courses for beginners, although the options are limited. The membership will allow you access to a huge variety of courses, including smartphone photography, wedding photography, creative photography, and many more. If you're running a photography business, Tuts Plus also provides courses that are tailored for this, including courses about keeping clients happy, displaying your work, photo organization and post-processing, and even the marketing aspects such as creating powerful call-to-actions and keyword optimization.
Since Tuts Plus offers courses from non-photography categories as well, you can also learn from their business courses, which is valuable to help you grow your photography business. The subscription of $29/month allows you unlimited access and downloads to all courses and e-books, with a huge array of stock photos and graphic assets to use.
Recommended for: Professional, commercial photographers
Learning materials: Videos, e-books
Learning type: Self-guided
Course length: Varies, between 5 minutes to 3.5 hours
Fee: $29/month
---
Shaw Academy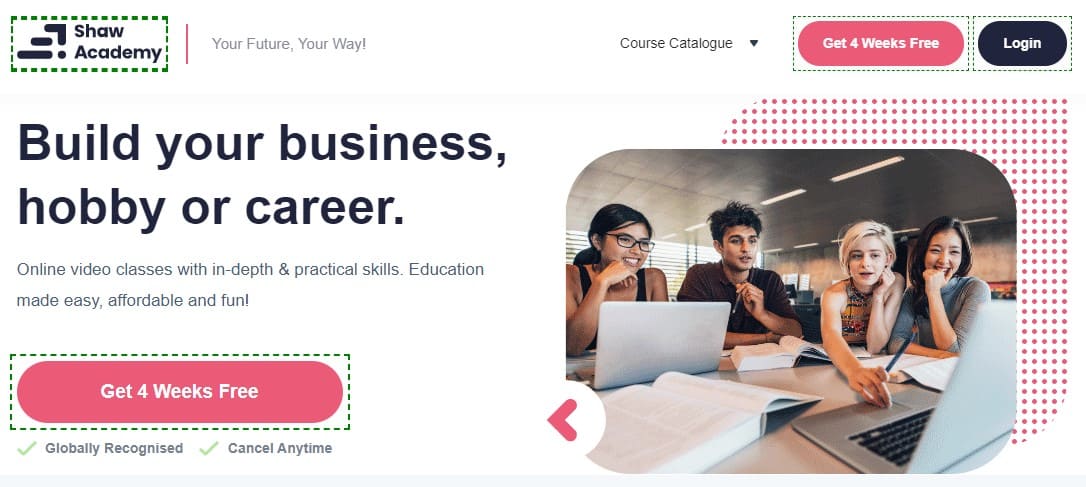 Like CreativeLive, Shaw Academy provides courses from various fields, including photography. A free photography course is available as a part of foundation courses, which covers basic technical knowledge in photography, such as exposure, depth of field, and the concepts of motion capture. Upon completion of foundation courses, students can move up to the advanced course, called Ultimate Photography Program, where more in-depth techniques are taught, including RAW image processing, color management, light shaping and manipulation, and more. The courses are delivered through webinars, where students are given opportunities to interact and ask questions.
As such, each lesson has a specific time and date. Compared to other schools on this list, Shaw Academy has a smaller range of course, but for each course, Shaw Academy provides structured, comprehensive lessons that can be completed in a few weeks. Courses offered include a diploma in basic & advanced photography, wedding photography, smartphone photography, Adobe Lightroom and Photoshop, and video. For each course, along with webinars & recordings, students will also get course tool kits, weekly assignments, final assignments, and E-diploma. While the membership monthly fee seems a lot compared to other subscription-based learning platforms, the comprehensive lessons and learning materials make it worth the money.
Recommended for: Professionals
Learning type: Structured
Learning type: Webinar, live interactions
Course length: 4 – 12 weeks
Fee: Free 30-day trial, $49.95/month
---
Click Photo School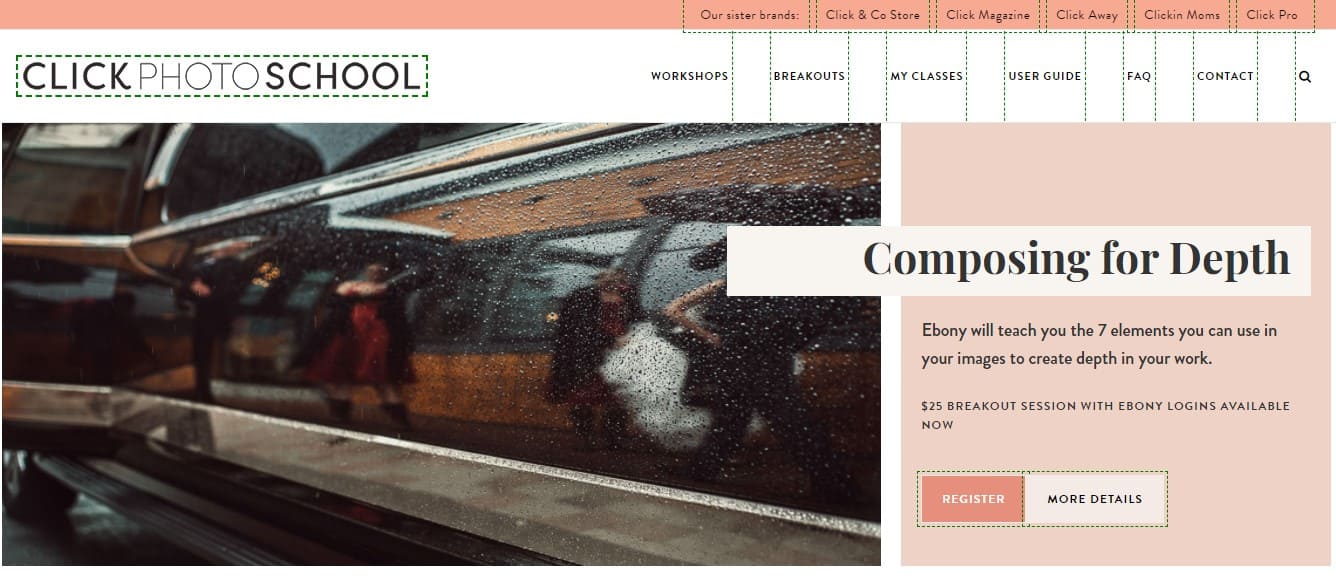 Click Photo School is a subsidiary of Clickin Moms, a community that seeks to empower women while encouraging them to capture better images. The school offers various workshops and breakout sessions throughout the year, ranging from beginners to advanced levels. The topics offered for workshops cover essential technical photography knowledge, including how to master natural light, composition, and editing. In addition to the technical knowledge, Click Photo School also covers topics about being creative in photography, like how to find your photography style, a guide to storytelling, and creating unique, edgy images. Naturally, the materials revolve around kids and family photos, focusing on taking better photos in everyday life, with some workshops and breakout sessions specifically focus on newborn photography, kids photography, and family photography.
For each workshop, you can opt for Full Participation which allows you to interact with the instructors and ask for feedback, or Study Along, which allows you to follow the course without interacting with the instructors. If you're on a budget, Study Along is a good option as you can save 50% of the fee.
Recommended for: Beginners, hobbyists
Learning type: Structured
Learning materials: Videos, e-books, PDFs
Course length: 1 – 4 weeks
Fee: $25 – $300
---
Hope this list can help you find the resources that suit you best!