"Sometimes you will never know the value of a moment until it becomes a memory". – Dr. Seuss
Deepavali, the festival of lights and togetherness is upon us. We have been celebrating Deepavali for centuries and have created many small traditions to enhance our entire festive experience. One such important tradition is the sharing of our love through mementos or gifts. Deepavali is also known as the festival of giving. Gifting and spreading joy bring us personal happiness and satisfaction and create everlasting memories. After all, life is all about creating memories and moments.
Life is nothing but a series of moments that have shaped you and have held a place in your heart. Celebrating these cherished moments with your close family and friends is what makes them eternal. So, solidify your memories and make them timeless by sharing them with your near and dear ones and spread joy this Deepavali. The name Deepavali or Diwali comes from a line of Diyas or lights. The lighting of lamps is a metaphor for illuminating our lives and getting rid of evil and negativity from our lives and nothing illuminates our lives more than sharing the love with our loved ones.
Trends come and go, but something that will always be cherished is a personalized gift! People love revisiting their good old times and laughing and crying with joy at their memories. Adding a personal touch to your gift makes the gift a lot more than what it just functionally might be! A notebook with a picture of your loved one means a lot more than any other notebook. Gifting your parents their customized Photo Book will surely light up their Diwali! This Diwali here are some fabulously creative ideas to pamper your loved ones.
Create personalized creative Deepavali Gifts:
Let your gifts be conversation starters. Gift something different with personalised presents and wow your family and friends with your Deepawali gifts. Let each gift do the talking for you. Below are some ideas for finding super Diwali gifts online!
1. Personalised Photobooks
Compiling your special memories in a personalized Photo Book is a great idea! Document your life journey or special occasions and celebrate those moments with all those around you. Gift your loved one a personalized Photobook of your special memories or create a special childhood Photo Book for your kid! Check our wide range of personalized Photo Books here, we have Hardcover books, Softcover books and a lot more variety in our Photo Books!
2. Prints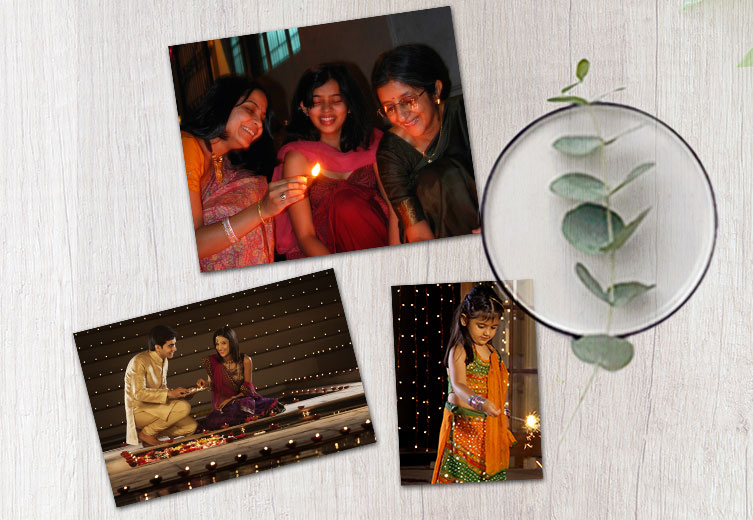 In today's digital age, there's nothing more special than a printed photograph of a special memory! Now enjoy our multiple options for photo print Singaporeright here! From classic Photo and Square Prints to quirky Photo Strips and Mini Prints to unique and elegant Retro Prints, we have it all! Gift small mementos such as these prints and make your memories shine and bring a smile on the faces of your family and friends. Gift your child a Photostrip or your best friend a series of Minis honoring your time together while growing up!
3. Decor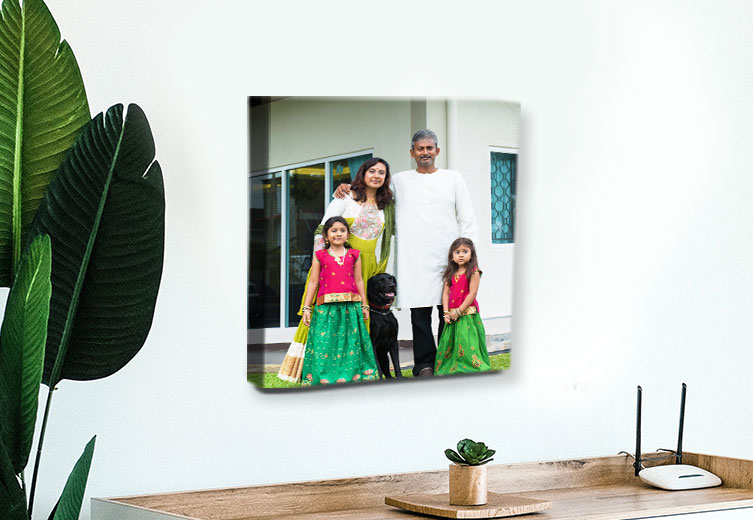 Decorate your home with your life's journey and with treasured moments from your life. Rejoice this Deepavali festive season with our amazing variety of decor items. Display your grand family wedding pictures or your child's first birthday or your wonderful vacation photos. Choose the traditional Wall Photo Frames or something chic like our Mounted Prints or Collage Posters! Your younger siblings and nephews or children will love our Photo Magnets! Add your family's story to these beautiful gifts! Check out our entire range of Home Decor items!
4. Personalised Calendars
With Deepavali, we welcome the new year and what better gift to welcome the year than new year calendars! Personalise your calendar and gift your loved ones a year worth of pictures filled with memories and joy! Make every day special with this wondrous gift! Take a look at our personalized Wall Calendars, Desk Calendars, and Poster Calendars. Gift someone a personalized calendar for the next year and make their whole year memorable!
5. Personalised Diwali Cards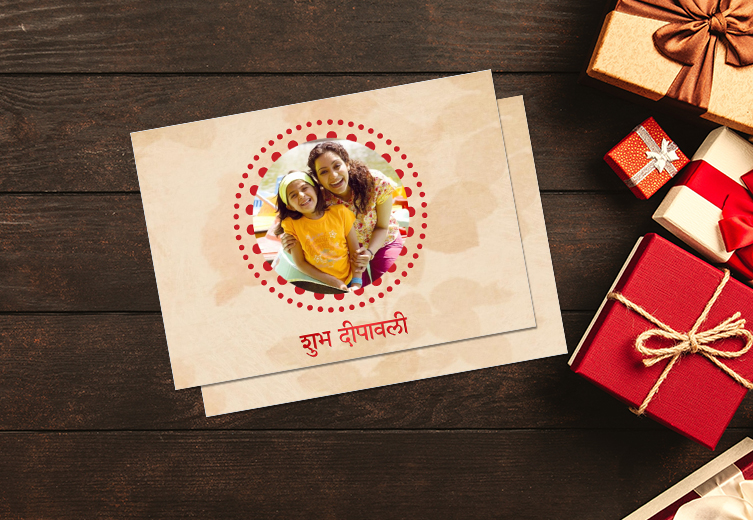 Diwali wishes are incomplete without a greeting card. Now you can personalize these greetings with happy moments and add your pictures to them. Send a Deepavali greeting card with not just your best wishes but also adding the visual of your smiling picture wishing them a Happy Deepavali! And if you are looking to invite people to your awesome Diwali party, look no further, our Invitation cards are just the right bet to make your guests swoon! These hand-picked photographs on your invites will melt all hearts and will guarantee you a full house at your party! View our variety of Deepavali Greeting and Invitation cards here!
6. Stationery
Who doesn't love stationery items? And what can make them better than adding custom photos to them? Now choose Notebooks, Notepads, Accordion Cards, and more at our store and upload pictures to get them printed exclusively for you! Personalised stationery is all the rage and adding your wedding picture on a notebook for your spouse is the sweetest gift! Gift your loved ones one of our stationery gifts and make them think of you even while they are at work or school! Browse our entire Stationery collection right here!
7. More Gift Ideas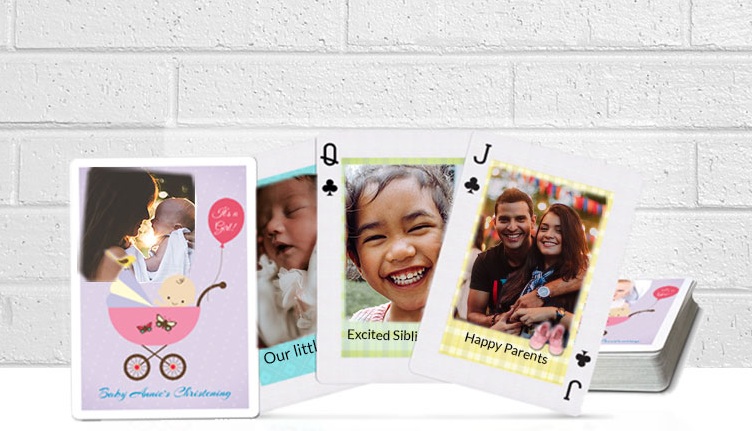 Traditional gifts like Mugs and Keychains never go out of style, especially when they have printed pictures of your family or even your business brand! These gifts are perfect for personal or bulk gifting. Gift your employees or clients or students or friends these personalized gift items and make them drool! Check out our wide range of gift items right now!
Choose the best product and personalize
Choosing a personalized gift is great and we have made it super easy! We know how special all your pictures are for you and we honor them well! We print all pictures only on premium paper products or material. All our products are super durable and easy to maintain. Now all you have to do is choose a gift and upload your selected pictures from Google photos, your device or your preferred social media platform like Facebook, Instagram, etc. and then just wait till your order arrives. You can also avail discounts through our offers or our Bumper Deepavali Gifts Sale!
Choose a gift this season, which will bring out your emotions to the fore. Indulge in nostalgia and celebrate life with your close ones. Love is what makes the world go round and make this Deepavali all about LOVE!