Deepavali, the grandest festival of lights is not too far away. If you're hoping to have the best time of your life during your next Deepavali celebration, we have put together just the right guide for you – from the traditional to the modern, here is everything you need to know to make your next Deepavali, one of the best you have ever had!
Let's begin with the basics.
Diwali vs. Deepavali: what's the difference?
The short answer is language evolution. Diwali or Deepavali is just two terms for the same festival used in North and South India respectively.
Originally known as Deepavali in Sanskrit, the name evolved in modern Hindi to Diwali and is commonly called as such in most Hindi-speaking North India. Beyond that, it's just a matter of habit or preference, so you can pick the name you like!
What is Diwali or Deepavali?
Also known as the Festival of Lights, Diwali (or Deepavali) is a traditional Hindu festival that celebrates the triumph of good over evil, of light over darkness.
A five-day long festival, the Diwali celebration is one of those magnificent Indian festivals in terms of grand holiday cheer, vibrant decoration, sumptuous delicacies, and its signature feature – a countless number of lights all around.
Who celebrates Deepavali?
Although the festival itself originates in India, Deepavali celebrations don't limit themselves to the country of their origin. It is celebrated by Hindu devotees, including expats and diaspora communities, as well as Deepavali enthusiasts, all around the world.
When is Deepavali celebrated?
Marked by the Hindu Lunisolar month Kartika (considered one of the holiest months), the festival of lights usually falls between mid-October and mid-November.
So what about Deepavali 2021? This year, Diwali will be observed on the 14th of November.
A short Deepavali history
The legends behind this much-loved holiday are as diverse as the celebrations that come with it.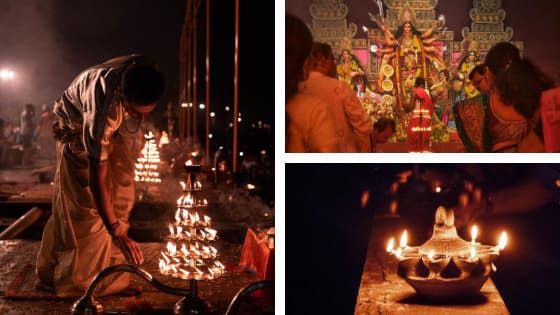 One of the most popular legends about the origin of Diwali in the North of India is the one about the return of Lord Rama (considered an incarnation of Vishnu) and his wife Sita to their North Indian kingdom after a 14-year exile. According to the legend, Lord Rama's army of good defeated demon king Ravana's army of evil.
And how did the people welcome back the sacred king and queen? With thousands of lamps, of course!
In the South of India, the popular Deepavali history is connected to the Hindu god Krishna (a different incarnation of Vishnu) who frees thousands from Asura Naraka, a powerful evil king who had held his people captive.
Whichever the legend believed in, the core notion remains the same, the triumph of good over evil. This victory is celebrated with lights to mark the end of darkness and with the invoking of Laxmi – the Hindu goddess of happiness and good fortune.
How to celebrate the Festival of Lights?
Like most festivals across the world, Diwali comes with the trinity of festivities – decoration, great food, and, of course, its own customs and traditions.
Whether you're looking for ways to brighten up your home with some Deepavali decoration, to try your hand at a few Deepavali sweets and rangoli art, to find the right gifts for your loved ones, or to discover Deepavali celebrations in Singapore, we've got you covered!
Deepavali Decorations
Let's begin with the indispensable – diyas. These traditional oil clay lamps light up temples and the houses of devotees around the world.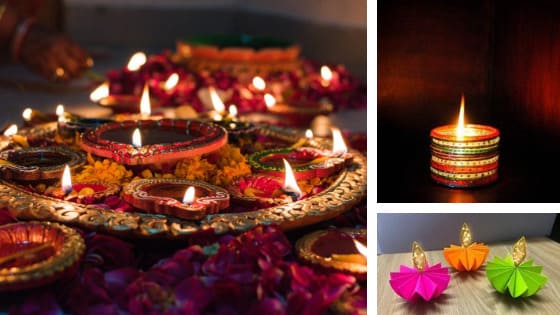 Pic Credits: Pinterest
If you're feeling a little creative, it's actually quite easy to make your own DIY diyas. In fact, it could make for a great festive craft activity with the kids.
If you're feeling particularly innovative, check out these modern DIY diya ideas that will blow your guests' minds away!
The second star of Deepavali decoration that goes hand-in-hand with diyas, is rangoli. These vibrant, colorful, and breathtakingly intricate hand-made pieces of floor art are to be found at the entrance of temples and households, welcoming the goddess Laxmi.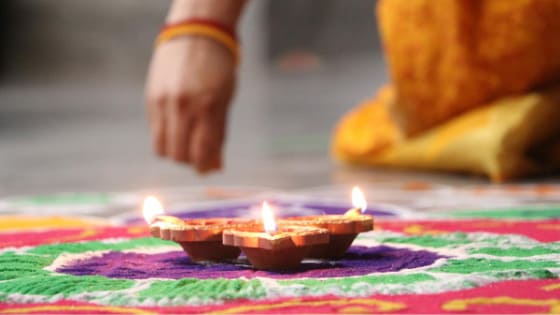 Traditionally made using a combination of colored rice, dry flour, colored sand, and even flower petals, adding rangoli is a great way to deck up your home.
Light up the walls with memories!
Why not go beyond lights and create a wall gallery of memories of Deepavali celebrations or special family moments over the years?
Frame some of your most cherished memories and add some string lights to make it festive. You can always swap the photos in the frames after the end of the festival.
Here are some of the best wall photo frames you can order home.
From colorful cushions and beautifully modified rugs to flowers, tea lamps, and figurines adorning the coffee tables and mantles, there is no limit to adding color to your living room.
Pic Credits: Pinterest
Send your loved ones personalized Diwali gifts!
Diwali is all about family and loved ones and sending each other good wishes of health and fortune. Like all other festive moments, it's a great time to exchange gifts with the people you cherish.
Why not send your loved ones a personalized Diwali gift that can also be turned into home decor? You could make them custom photo gifts with your favorite memories together for their house.
Or along with the traditional pack of sweets or boxes of dry fruits, you could surprise them with a hand-made or personalized happy Deepavali greetings card that they can display as a mantlepiece.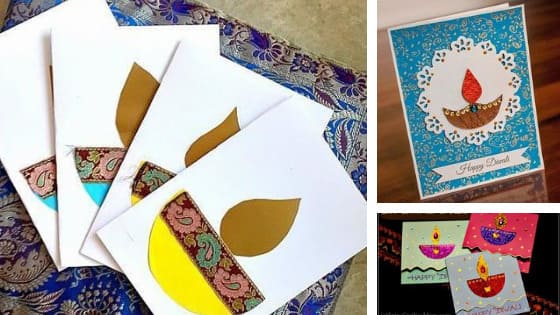 Pic Credits: Pinterest
If you're looking for a Deepavali gift for a teacher, check out our blog on great gifts for teachers for more ideas.
Now that your house has been embellished and the gifts are ready to go, what next?
Deepavali Food
Every festival comes with its customary food. There's nothing that makes Diwali sweeter than the food that comes with it – quite literally!
Just as much as the rangoli and furniture decorations add to the vibrant nature of a Diwali home, colorful mithai adds plenty of its own, adorning the Diwali platter with an unparalleled richness.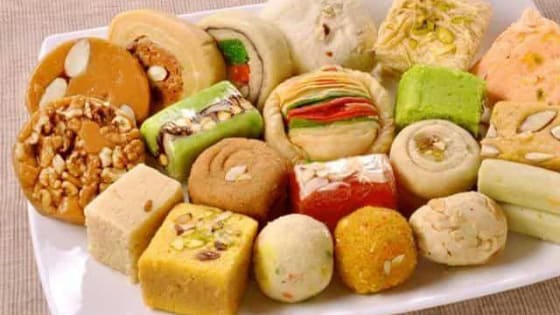 Image Credits: Pinterest
The sweetest thing about these little bites of goodness is that you don't have to be a trained chef to make the traditional mithai that have been passed down for generations. Here are some quick and easy Diwali sweets recipes that you can make yourself at home.
And if you aren't feeling adventurous in the kitchen, you can always head to Ganesan Villas or Moghul Sweet Shop (Little India Arcade, 48 Serangoon Road) for some decadent gulab jamuns, jalebis, and other colorful treats that are bound to delight your sweet tooth.
Other Traditions
Yes, diyas, rangoli, and mithai have become almost synonymous with Deepavali celebrations. But the Festival of Lights is about so much more.
Being a moment to welcome the new, Diwali brings with it a lot of different customs from cleansing oil baths and putting on new clothes, to lighting fireworks, heading to the temple to pray, and visiting the homes of friends and relatives for feasting.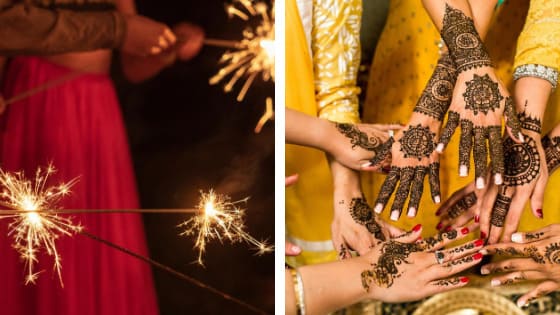 What can you do in Singapore?
You don't have to be in India to find the beauty of Deepavali celebrations around you. You just have to find India where you are, and you will find a couple of traditions there too!
Little India and the Deepavali Festival Village
If you are in Singapore, you know where to go first – Little India. Definitely one of the most instagrammable places in Singapore, this vibrant part of Singapore has got to be on your list!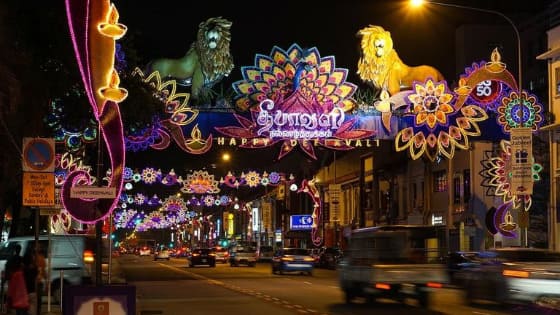 Not only does it host the annual Deepavali light-up, but you can also enjoy the festive atmosphere at the Deepavali Festival Village at Campbell Lane and Hastings Road in Little India. While you're there, take a stroll through the bustling bazaar where you can treat yourself to some embroidered saris, hand-made jewelry, scented garlands, and ornamental decorations, or simply sip on some delicious teh tarik (pulled milk tea) or get yourself a henna tattoo.
Head to one of the beautiful Hindu temples
It's Deepavali, head to one of the breathtaking temples. The jewel in Little India's crown is definitely Sri Veeramakaliamman Temple on Serangoon Road. You can also visit the Sri Mariamman on South Bridge Road, known for its mesmerizing painted ceilings and the Fire Walking Ceremony (Theemithi) the week before Deepavali.
Treat yourself to a Michelin-star Deepavali meal
Offering its patrons an indulgent Diwali feast, The Song of India will take you to Indian cuisine heaven. A fine-dining approach to Indian cuisine like no other, this is a gift you must give yourself!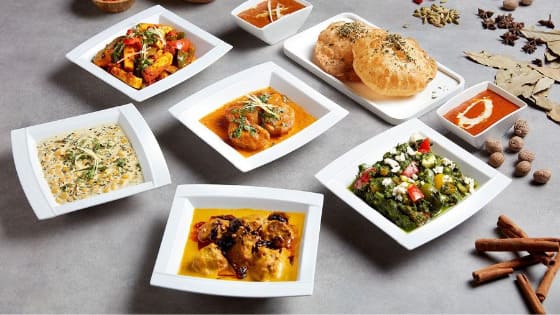 Image Credits: Asia Tatier
So are you all set for the most spectacular Deepavali celebration this year?
We hope this Deepavali celebration guide is just what you were looking for. For more tips and recommendations for gifts, decor ideas, and more, head to our blog.