Easy DIY Photo Wall Ideas
Are you looking for DIY wall decor ideas within a small budget?
We all love good wall decor, especially those involving photos. DIY wall decor doesn't need to be expensive or time-consuming.
To help you, we've compiled 17 affordable and easy DIY photo wall ideas. Many of these ideas can be made into fun projects to do with your children, and the results wouldn't disappoint you.
Photo wall ideas without frames
1. Colorful mosaic wall

Create a striking mosaic photo wall by sticking your colorful square prints to a colored paper/paperboard. Yes, it's that easy!
2. Fairy lights photo wall
Who doesn't love fairy lights? They're inexpensive and pretty, and they create a warm effect for your room. Simply clip Retro prints or square prints to the strings, and you'll have a dazzling photo wall in less than 30 minutes.
Pro tip: Use mini wooden pegs for a vintage look, or colorful pegs for a more vibrant style.
3. Wooden hanger frames
This wooden hanger photo wall is one of the easiest DIY projects that you can do with kids. Collect a few wooden hangers, and clip your photos onto them.
Pro tip: You can clip 1 photo or several photos per hanger. Mix it up to make it fun and interesting.
4. Chalkboard gallery wall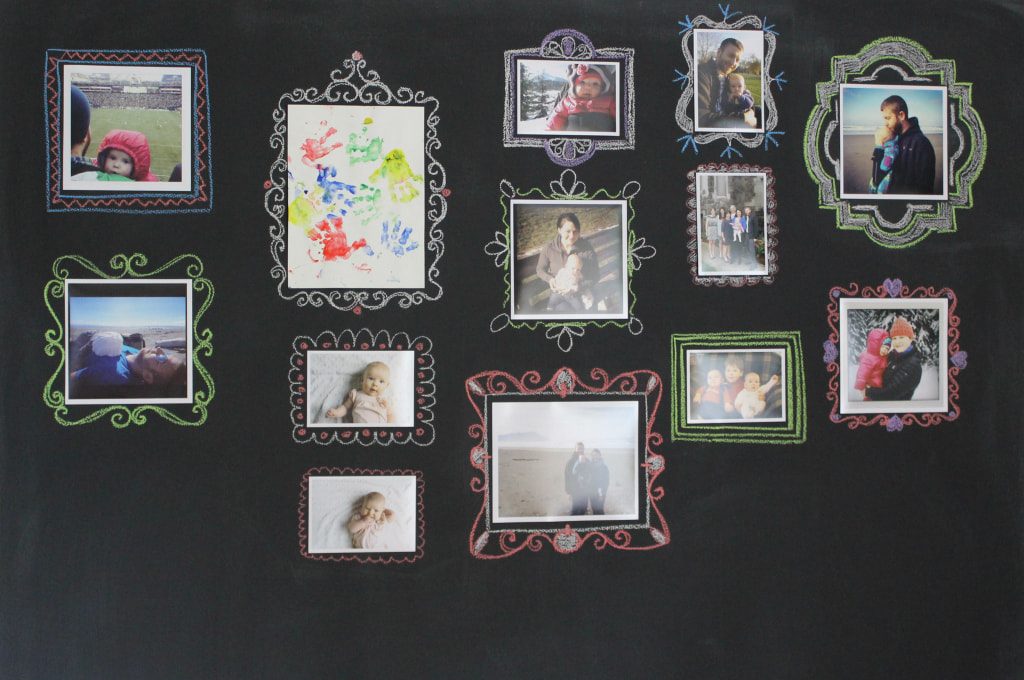 Image credit: Better Remade
Affordable and fun, this is a project that you can assign to your kids. Stick your photo prints on the wall, and draw a frame around each photo. You can also add notes or drawings. The sky's the limit!
READ: You can add more finishing touches with the line drawing ideas to smoothen your wall art frames.
5. Grid panel gallery wall
When it's not possible to hang something on your wall, you can still decorate it with this grid panel for your photo wall. Prop it on a desk or a dresser, and clip your favorite photos on it.
6. Hanging photo album
Do you want to make a big photo display on your wall, but can't be bothered with the tedious task of taping each photo on your wall? This hanging photo album is the solution.
You can buy transparent hanging file organizers with pockets. All you need to do is fill the pockets with photo prints of your choice, and hang these organizers on your wall.
7. Binder clip photo wall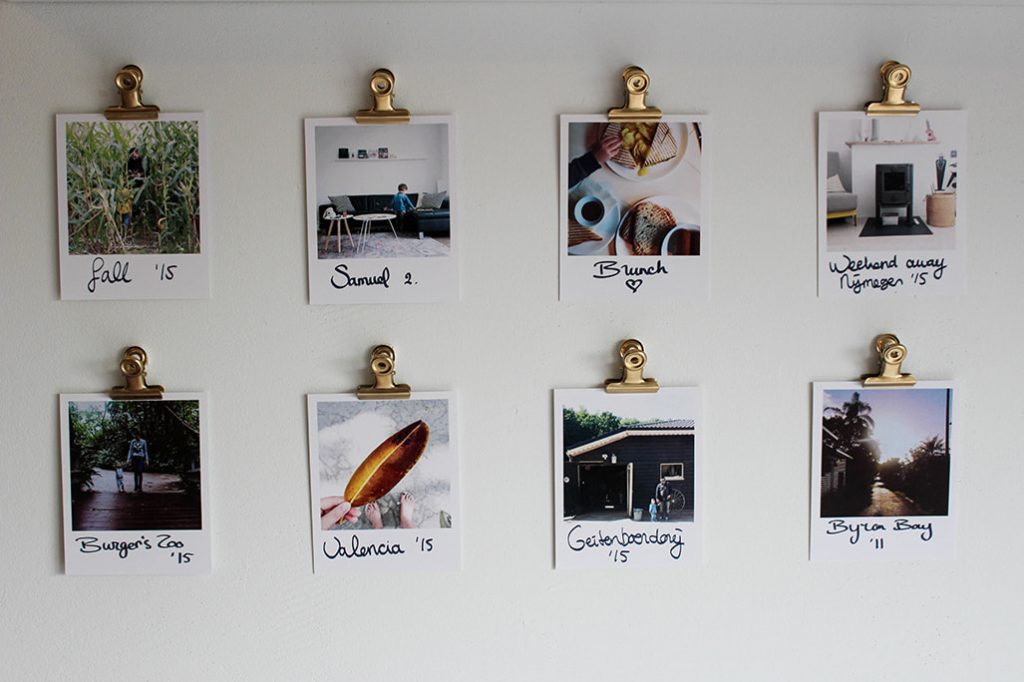 Image credit: Meet Marloes
Buy a bunch of binder clip photo holders, clip your photos, and hang them on the wall! Alternatively, you can clip them to a piece of string to create a photo garland.
Retro prints are perfect for this project, as you can also scribble notes to add to the memories.
This photo banner will definitely make for a unique photo wall. You'll need a piece of canvas paper, string, and a stick for each banner. Follow this super easy art banner tutorial to make the banners.
This is also a fun art project to make with kids, as they get to paint the banners, stick the photos, and add handwritten notes if they like.
9. Tape frames

Spice up your photo wall display with different colorful tapes. Use these tapes to 'frame' your photos, and voila, you get a beautiful photo wall.
10. Clipboard photo wall

Danielle Hatcher via Fearless and Framed
Use wooden clipboards to give the 'framed' look to your photo prints. Simply clip a photo on a clipboard and hang it on the wall.
Pro tip: The size of the clipboards will determine the size of the prints. Choose the print sizes that are 2 inches smaller than the clipboard's width and height. You'll want to leave about 1-inch margin on each side of the clipboard for a neat look.
11. Split photo wall art
Choose 1 of your favourite photos and split it into 2 or 3 parts (you can split it using a photo split app, or Adobe Photoshop). Print the split photos and hang them together on your living room wall.
Pro tip: Avoid using frames. Use canvas photo prints or mounted prints to make a seamless display.
12. Rustic Window Pane
Who knew that old window panes can be used as a display for a photo wall? All you need to do is to get the measurements right, and fit your photos onto the panes.
Pro tip: Old, battered window panes will create a rustic effect, but if you want a cleaner look, you can repaint it.
---
Photo wall ideas with frames
13. Big frame, small prints
You'll only need a bunch of mini prints and a huge frame for this one. It's simple and sophisticated, perfect when you're looking for a quick, foolproof project.
14. Minimalist kids portrait

Along Abbey Road via Pinterest
If you favor elegant and minimalist decor, this idea is for you. You don't need a lot of photos, just pick your 2 or 3 favorite portraits of your kids, print them big and hang them on the wall. You can use either framed photos or canvas prints if you want a different style.
Pro tip: choose portraits with plain backgrounds to keep it minimalist.
15. Ombre photo wall

Take your love of colorful displays to another level by creating this ombre photo wall. Use a few colors to make a smooth gradation, from the pale to the most vibrant colors. You can find budget frames that come at a really cheap price, or you can also do it without for a more affordable option.
16. Framed photo and art mosaic

Image credit: Jackie Rueda via 

Pinterest
Your photo wall doesn't have to be all photos. Mix your photo display with quotes, wall art, or quirky patterns to add more fun!
17. Mixed-medium photo wall

Image credit: Disney Kate
Your photo wall shouldn't always be uniform. Mix print photos online with framed images, and maybe little props or keepsakes that mean a lot to you.
Pro tip: You can order wall photo frames when printing your pictures, and they will be delivered to your address with frames, ready to be hung. 
---