Minimalist. Expressive. Trending. Three words that sum up line art frames that will transform your home. This elegant art form has begun conquering homes around the world with its raw simplicity and expressive freedom. If you practice minimalism, this minimalist framed line art is perfect for you. Even if you don't, this style of art will bring a sense of peace and calm to your interiors along with a modern appeal.
While line art paintings can be expensive, your DIY projects don't have to be. Simple to source for printing and fairly easy to recreate, you can bring gorgeous line art wall decor to your interiors, even on a budget. Let us tell you how.
Let's begin with the basics.
What is Line Art?
By definition, "line art or line drawing is any image that consists of distinct straight or curved lines placed against a plain background. These minimalist drawings represent two or three-dimensional objects and are free of gradations in shade or hue".
By eliminating the use of unnecessary embellishments and elements, this minimalist style of art focuses on the subject. The subjects are usually human portraits, natural elements, still life, and abstract forms.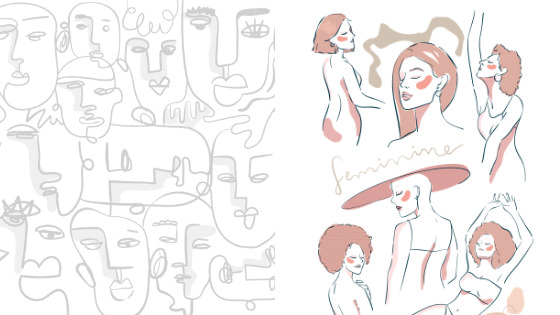 Image Source: Raw Pixel
 Line art, you may be surprised to know, is actually one of the first techniques of drawing most of us learn in art class. Do you remember learning to draw the outline of objects or people? You may have even learned to do this without lifting your pen from your paper. Sounds familiar, doesn't it?
Well, this fundamental one line drawing or contour drawing technique is the basic concept of line art. Yes, we were all budding Picassos in the making!
We may not all have become Picassos. But if you are reading this blog, you definitely love to channel your inner artist through the creation and curation of home decor.
Line art paintings, in the last two years or so, have become one of the most popular home decor trends. Whether monochromatic, abstract, floral, or even nudes – the diversity of art that is born out of a simple line is mind-blowing! Place it on any wall, and the result is ten times as breathtaking. This is because minimalist line art is so unobtrusive, it tends to blend into colorful as well as minimalist homes.
Whatever your style or the space you need to decorate, there's something for every room and every eye. Are you ready to begin?
DIY Line Art Wall Decor: How To Get Started
1. Try Out Line Art as a Hobby
It may seem far-fetched, but line art is not the kind of art limited to a select few born-with-talent individuals. It is the kind that comes with intention and practice. You can begin with simple doodles in your notebook. The key is to let yourself be inspired by any person or object around you.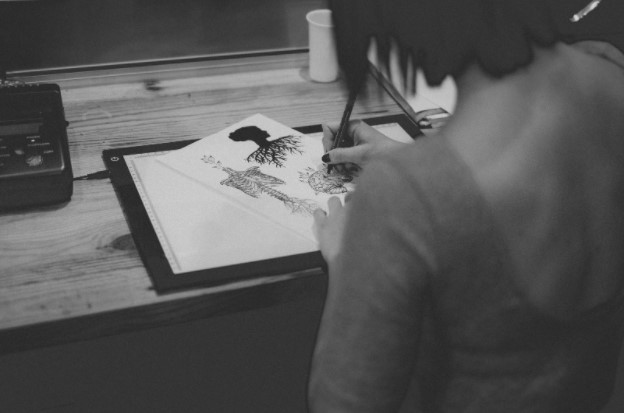 "The key to improving your line art drawing abilities is to just go for it — make no apology for a mis-stroke and put all creative doubts on mute".
Check out this blog on the History, Techniques, And How To Improve Line Art
2. Recreate Your Favorite Artwork Yourself
The Internet is an amazing place to find what you are looking for. Let her become your muse! Run a search on Pinterest and let your eye do the rest.
Once you have found the style that suits your home's personality, select a simple line drawing that you can recreate by hand. Don't worry about perfection. The beauty of one line artwork is in its flaws and individual quirks.
If the artwork you like is too intricate, another option is to print it out and trace over the glass of your frame. The amazing thing? Once framed and on a wall, watch the magical effect of the shadows created by the light!
3. Source and Order Framed Line Art
Don't worry, not everyone has a steady hand! If it's not your forte, you can choose to create line art wall decor by having your favorite artwork printed and framed. Support a local or independent artist or look for something open-source.
You can find a lot of free and affordable vectors and open-source images that you can turn into line art prints on sites such as Rawpixel, PngTree, and Freepik. From minimalistic one line drawings to intricate floral and decorative mandalas, there's so much to choose from!
Once you have made your selection, you can order wall photo frames at Photojaanic in a matter of minutes! Yes, it's that easy! Check out our range of wall art printing options to know more.
Need a little inspiration? Let's get you started.
Ideas for Line Art Wall Decor
Before you dive right in, it's important to ask yourself a few basic questions. Which room are you planning on decorating? What is the kind of vibe you are trying to create? What is the color scheme and general tone of the room in question?
1. Create a Gallery of Minimalist Line Art
Let's say, you want to decorate your living room. Start with a theme that suits the living space and goes hand in hand with your other decor. As for the type of line art, it's always best to go with the kind that speaks to you. Create a wall gallery of single line drawings of abstract portraits or go all out with intricate decorative and floral patterns.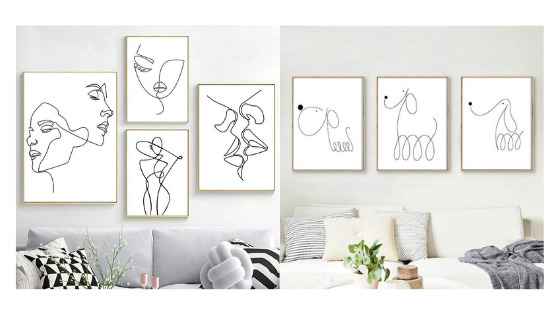 Image Source: Wall Corner & Gioia
2. Black and White
Turn things around and go for white ink strokes on black. The depth created by the inversion of colors has a bold character to it and the power to draw any eye in!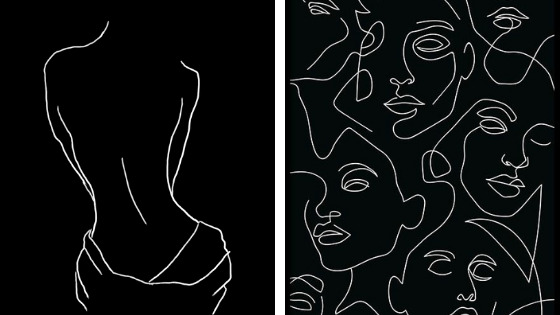 Image Source: Society 6
3. A Splash of Color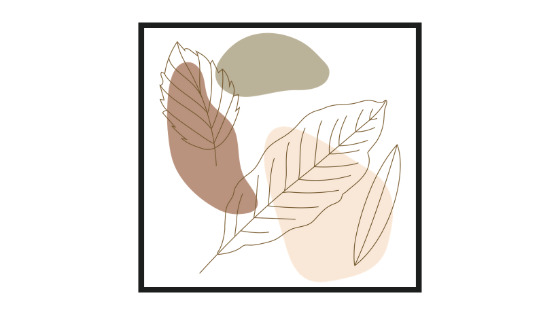 Image Source: Rawpixel
lIf black and white is not your style, consider a little bit of color. While the trend of single line drawings began with black strokes on white backgrounds, line art frames with a splash of color can make the subject stand out. It also adds a certain warmth and brightness to a room. If your room is essentially monochromatic itself, then consider a pop of a contrasting or clashing color.
4. Burnt Orange Shapes Art Print
Bringing together single line drawings, bold shapes, and soft colors to add a certain depth to the piece of art, burnt orange art prints are great in a living room or study.
Image Source: Freepik
5. Framing Love Through Lines
There are so many ways to capture romance in home decor. From heart-shaped wall frames to his & her bed linen, we've seen it all. But there's something so moving and powerful about simple line drawings of couples can capture the essence of romance quite like a poem – but in a single line.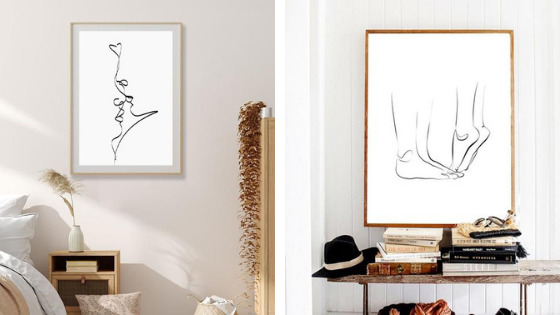 Image Source: Gallery Walrus
 6. Welcome Your New-Born
A unique approach that has a more modern charm to it, one line drawings of a child being welcomed has a pull like no other. A single line drawing of a family, a figurative depiction of motherhood, a minimalist line art print of a baby in the womb… your art frames are bound to bring tears of joy.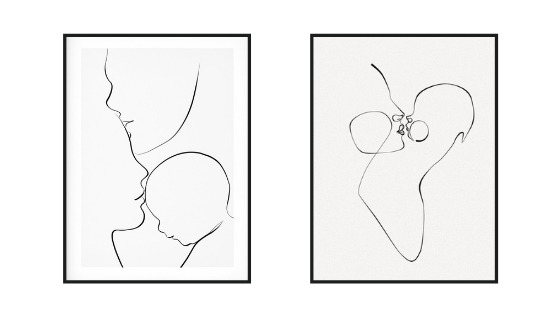 Image Source: Etsy
7. Elegant Nude Backs
There's something so awe-inspiring about graceful contours of the female body. Artists have been capturing the female figure for centuries. An entire theme in itself, you can get line art prints of nude backs in various styles.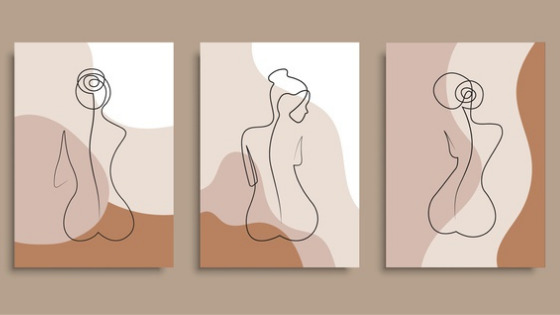 Image Source: Freepik
8. Abstract Human Figures
If nudes are not your style, try out figurative line drawings or an abstract face line drawing instead. Hung on its own or even as part of a gallery, these line art prints create a striking statement.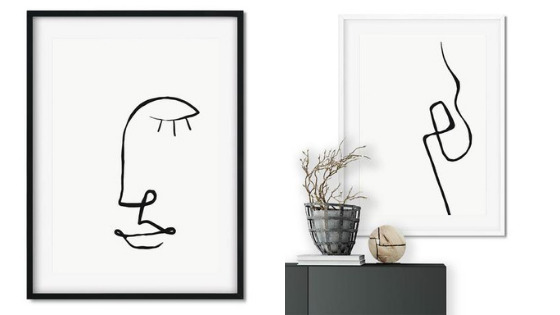 Image Source: Abstract House
9. Botanical Line Art Prints
Love leaves, flowers, and everything in nature? Breathe life into your room with hand-drawn botanical line art. Try out a minimalist line drawing of a flower or go for a more tropical feel of intricately drawn leaves on a wall. Or why not abstract line art prints that mix human portraits and natural elements?

Image Source: Pinterest & Pngtree
10. Bold Geometric Shapes and Lines
If floral and decorative aren't your cup of tea, you may love the aesthetic of the abstract and the geometric. Hang them solo or partner them with other line artwork to make a bold wall art gallery.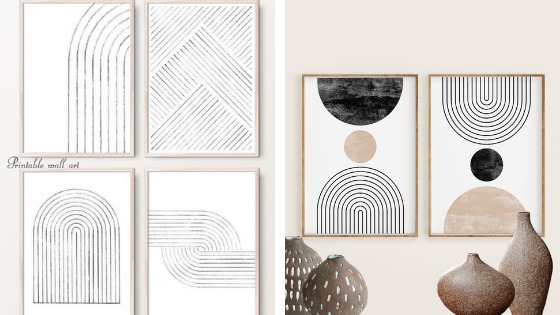 Image Source: Etsy
Feeling inspired? Check out our blogs for more photo wall ideas and DIY wall decor ideas.
Are you ready to bring new life to your home with minimalist line art prints? Get started on your first wall line art frames now!