From the very first steps to the first smile, from their first favorite toy to their first laugh, a baby's first year is always filled with emotional and touching moments that can fill you with aww. For any new proud parents, it is always a top priority to capture those precious moments and preserve them so that they can re-live them later in life.
Plus, It does not hurt to have snaps of your baby as evidence to show how much cuter your baby is than everyone else's. So how do you compile the month-by-month milestones of your baby?
Your best bet would be to create a personalized photo book since they are easy to make, affordable, and can also become excellent baby photo album gifts for other parents. Let us take you through some of our favorite ideas for the first-year photo book for your baby and guide you through the process of creating your own.
1. Baby's First Photobook Must-Have Checklist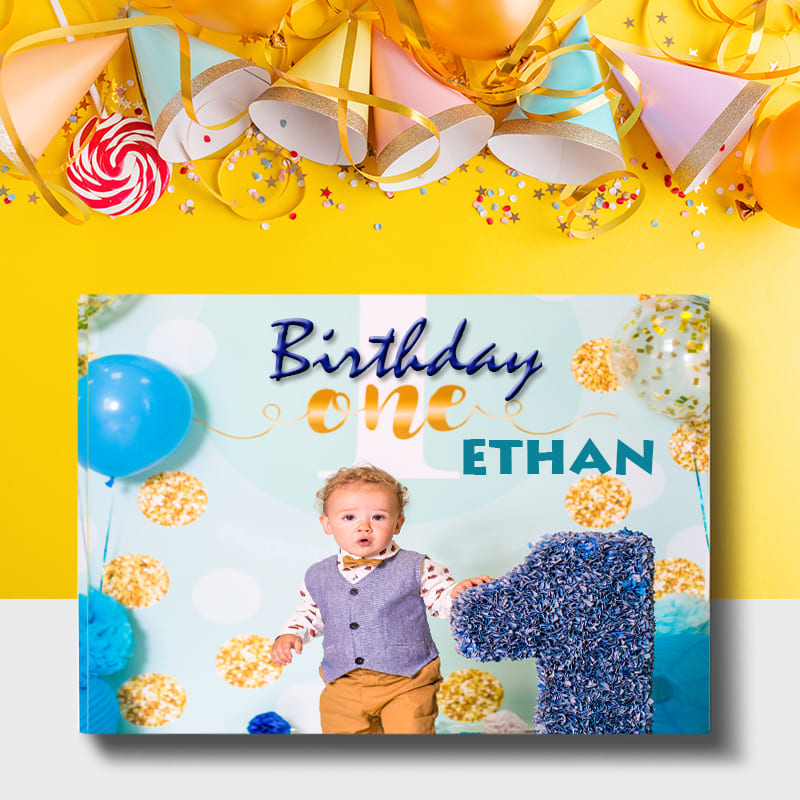 So what do you put in your baby's first photobook? Here's a must-have checklist:
Monthly Milestones
The life of any great first-year baby photo book is always the snaps of the various candid instances of the baby's life. Whilst creating your photo book, you need to include pictures of such cute instances since they can be memorable milestones. Whether it's the first outing on the stroller, first bath or meal, or the first time they grabbed a stuffed animal, there is no greater feeling than recording and experiencing your child's initial stages of life.
Add Some Laughs
Let's face it, who doesn't like funny baby photos? Whether it's a funny outfit or a cute toy, funny baby photos are the best way to make your baby photo book even more adorable. So how do you get the right shot? Use props such as a cowboy hat or a onesie to make your baby look even more adorable for the pic. Also, put your baby in different poses with stuffed toys, not only will it be cultishly funny, but it also allows you to embarrass your children when they grow up.
Share The Story
Apart from sharing photos of your cute baby, it is also a good idea to create a storyline of your baby's birth. Include photos of the hospital where the baby was born followed by photos of the day the baby left the hospital. To amp up the cool factor of your child's first-year photo book, add a print of the baby's sonogram before birth, right at the beginning of the photo book.
Add Photos With other family members
Adding only photos of your baby will surely make your photo book cute, but why not add pics of your baby with other family members into the mix. Include photos of your baby with their grandparents, siblings, and also uncles and aunties who have played a role in their upbringing into your baby's first-year photobook. Why stop there, it can also be a good idea to add pictures of your baby with a few friends who were around during the time of the baby's birth and who had offered invaluable support.
Include Letters From Mom & Dad
A baby's first-year photo book can become so much more than photos, with letters from parents adding a personal flair. As years go by, your child can read through your thoughts including a declaration of your love and how proud you are of him or her. If you are not sure about what to write, consider adding inspirational quotes that mean a lot to you, or, think of the lesson you have learned in your own life and derive advice that you would like to share with your child.
2. Why Should you Create a Photo Book for Your Baby?
Keep Your Baby Photos Organized
We have all experienced clicking a ton of photos and losing them at some point time, thus being unable to reminisce on a cherished moment. Creating a personalized baby photo book allows you to store all your baby photos in a single place hence keeping them organized forever. To add to this, baby photo books are also a valid excuse to stimulate your creativity.
A Happy Reminder
In this day in age, we simply cannot spend some one-on-one time with our children due to our hectic work lives. Keeping a baby photo book nearby can help you remind yourself of your child, thus easing your stress and keeping a smile on your face. Additionally, photo books are also a great conversation starter since it allows you to talk about special moments in your baby's life to others.
Last a Lifetime
A photo book is something that is made and read now but can be kept for years to come It is likely that when you grow older and your child is all grown up, you would want to briefly take yourself back to the days where it all began, and a personalized baby photo book is a great way to help you do just that.
3. Make Your Best Personalized Photo Books
Photobooks and photo albums for your baby are not only a great way of showing off your favorite baby photos, but they can also be a perfect gift or a keepsake that, over the years, allows you and your loved ones to relive your memories. So! You have clicked a ton of cute photos of your baby, but how do you convert a hard drive full of photos into a photo book of memories? Worry not! We will guide you through a step-by-step process of making your own personalized photo book as per your taste.
4. How to Create a First-Year Baby Photo Album?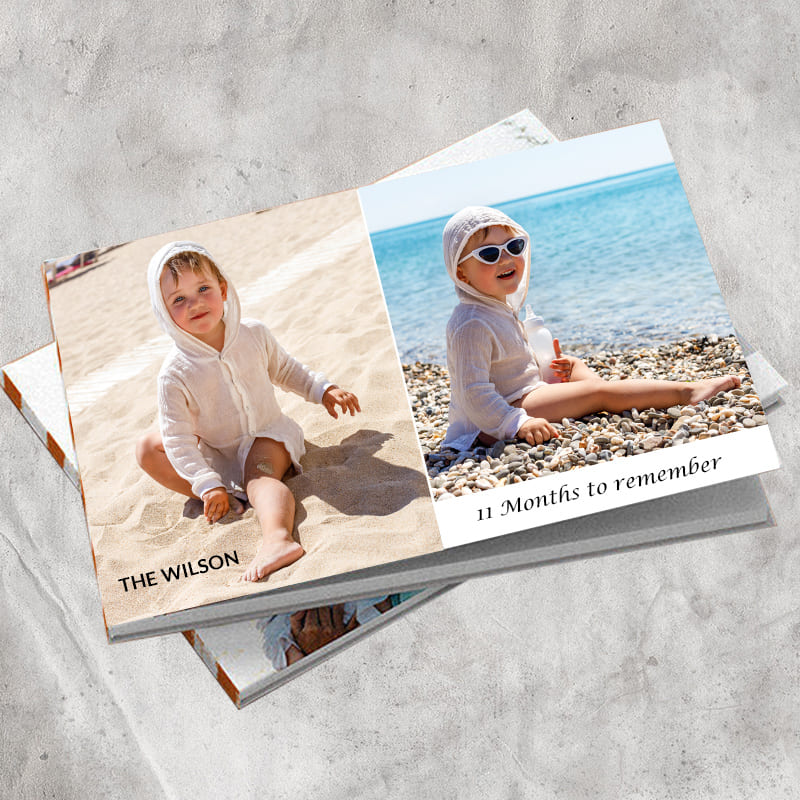 When creating your own first-year baby photo book, you should always make sure that you are picking the best photo book creation service that provides great customization options and layouts that allows you to personalize your photo book in great detail. Follow these simple steps to make your personalized photo book.
Choose Your Photo Book Style and Size
The first step is to choose the type of photo book that you desire. This could be hardcover or softcover and choose your preferred size. Depending on your baby photos, you may want to select a 6×6 or an 8×8 size or maybe a larger 12×12.
Choose a Template
After you have picked your preferred size, it's time to choose the right template that makes your photo book stand out. Depending on the photo book creation service that you have picked, there may be hundreds, if not, thousands of designs to choose from. If you couldn't find the right one, you may be able to unleash your creativity and create your own template.
Begin Your Project
It's finally time to start building your best photo book for your baby's first year. Upload the photos that you have selected. You may need to drag and drop images as and when needed so that you can position your photos on the desired position on the photobook. During this step, you can also add captions, embellishments, or other designs that may be available in your workspace that will help you spice up your photo book.
Review Your Book
It is always important to review your book when you are just about hit confirm button on the design of your personalized photo book. This is your only chance to catch any mistakes such as typos, duplicate or misaligned images, and so on. You may even ask a friend or a family member to also review your photo book with you to look out for mistakes that you may have missed. Additionally, you should also go through the options you have selected such as the size, material, and type of the baby photo book.
Place Your Order
Once you are satisfied with your photo book project after double-checking for mistakes, it's time to order. Add the customized baby photo album to your cart and head for the checkout! Choose your preferred payment method and make sure your payment details are in order.
5. Fun Ways to Document Your Baby's First Year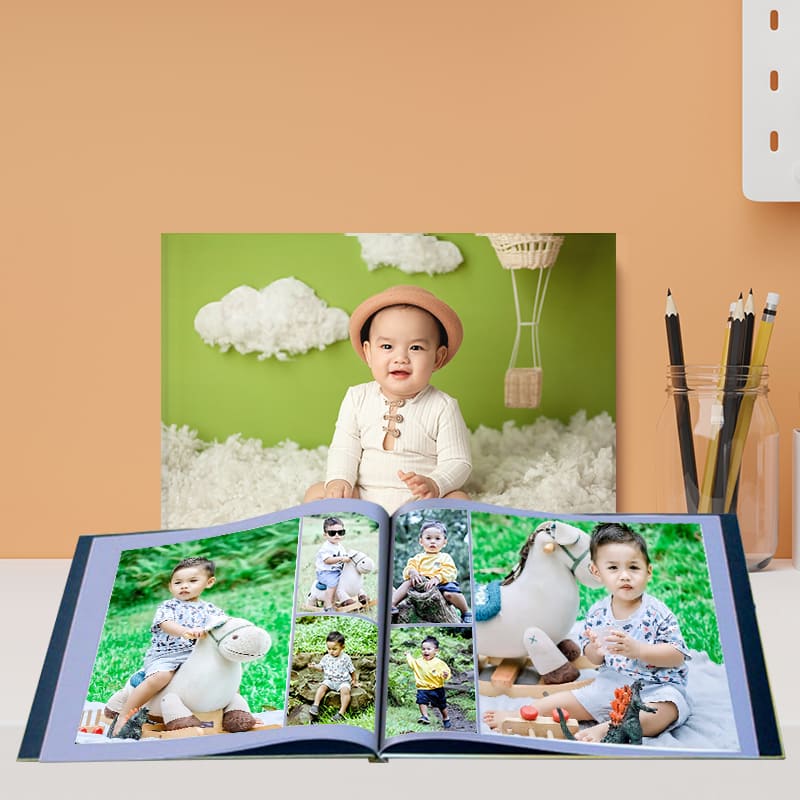 Documenting the very first year of your baby can be a challenge since there are several different ways to capture the fast-moving months where your baby evolves. The best way to keep up is to snap a ton of pictures of the changing moments, keep and preserve any memorabilia, and take calendar notes of how you feel.
Feels overwhelming? Whether you are a parent who is tech-savvy and has a knack for digital design, or someone who likes to get hands-on with crafting and sticking things together, there is always a way for you to document your baby's first year.
Snap, Snap, and more Snaps!
Let's face it, babies generally grow up in a blink of an eye and there is no easier way to see it than pictures. To capture their change, click a photo of your baby once a month, every month, for the first year. If you feel ambitious, you can also do so on a weekly basis.
By the end of the year, you will have a collection of images that showcases the growth of your baby throughout the year in almost like a time-lapse fashion. You can also go the extra mile and note down events taking place at the moment on a piece of colorful paper or card and place it next to the baby before taking the picture.
On the other hand, if you know your way around Photoshop, you can instead note it down on a layer over the image with a funky font and a colorful background.
If you need some inspiration or some advice on using the technical features of a camera, read our blog about kids photography guide for beginners.
Create Retro Prints
Another great way to get creative with documenting your baby's first year is to print your baby images with a retro template and filter. Retro prints are usually printed in a premium luster poster that usually has a little space at the bottom to write humorous or memorable quotes.
The added bonus with retro prints is that they amplify the coolness factor of your baby's photo album or photo book by making them stand out, and additionally, retro prints can also be perfect for baby girl or boy photo album gifts.
6. How do I Make a Baby Photo Album?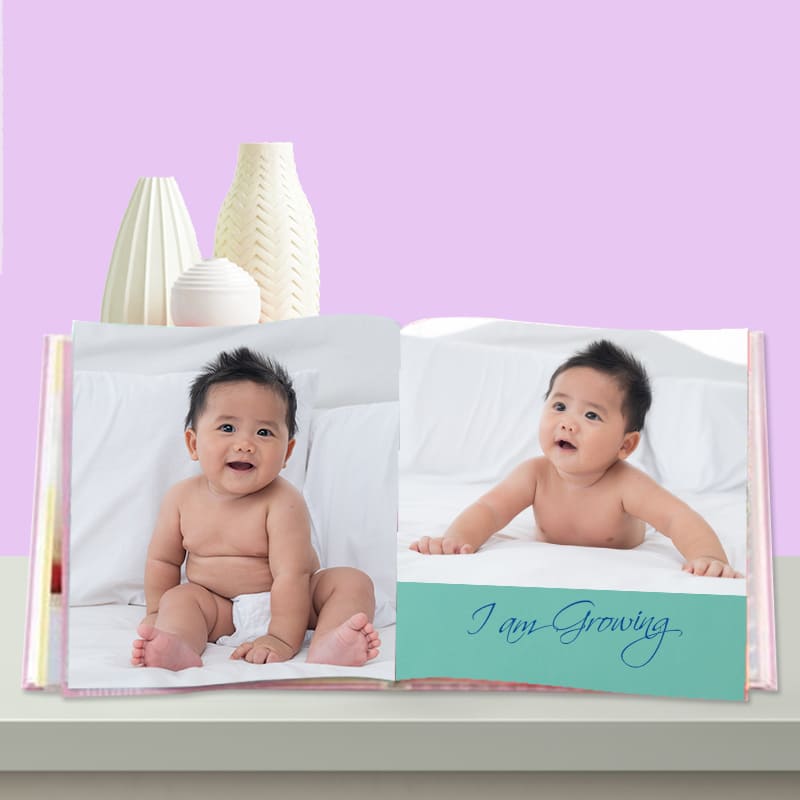 There are so many ways you create your personalized baby photo album. If you are one who likes to get hands-on with arts and craft, then your best bet would be to head on down to your local stationery stores and get yourself an empty scrapbook and a pair of scissors, some sticky gum, and other decorative and colorful elements such as glitter, origami paper and so on.
These are the minimum essentials that will allow you to get creative and craft your nifty photo album. On the other hand, if you are a person who likes to go the digital route, then there are plenty of innovative online tools that you can use to cut and paste your personalized baby photo album.
If you are looking for some inspiration: Read our 15 fun and creative ideas for kids that won't break the bank.
7. What is a Personalized Photo Book?
In the past, the only solution for compiling a collection of photos in an organized and trendy manner was purchasing a boring photo album with empty photo compartments and plainly place the photos in them. Over the years, however, the development of technology and digital tools are now making traditional photo albums a thing of the past since you can now create your own personalized photo book using sophisticated online tools from creative photo service providers that let you simply drag and drop images and choose from a plethora of designs.
What's more, gone are the days where you need to waste time searching for a photo studio to shop for photo albums since you can now have your personalized photo book ordered and delivered to you in no time. Put simply, personalized photo books are custom photo albums created for you by you.
8. What Should be in Your Baby's Photobook?
It goes without saying that the main element of any baby photo book is the snaps of your baby girl or boy. Make sure you take the time the pick the right images for your photo book. These can be ones the are the cutest, funniest and memorable.
It is also the right time to get creative, add fancy and colorful elements to your custom baby photo book, such as abstract designs, gradient colors, letters from mom and dad, and more. Your only limit is your own imagination.
9. How do you Make a Baby Girl Album?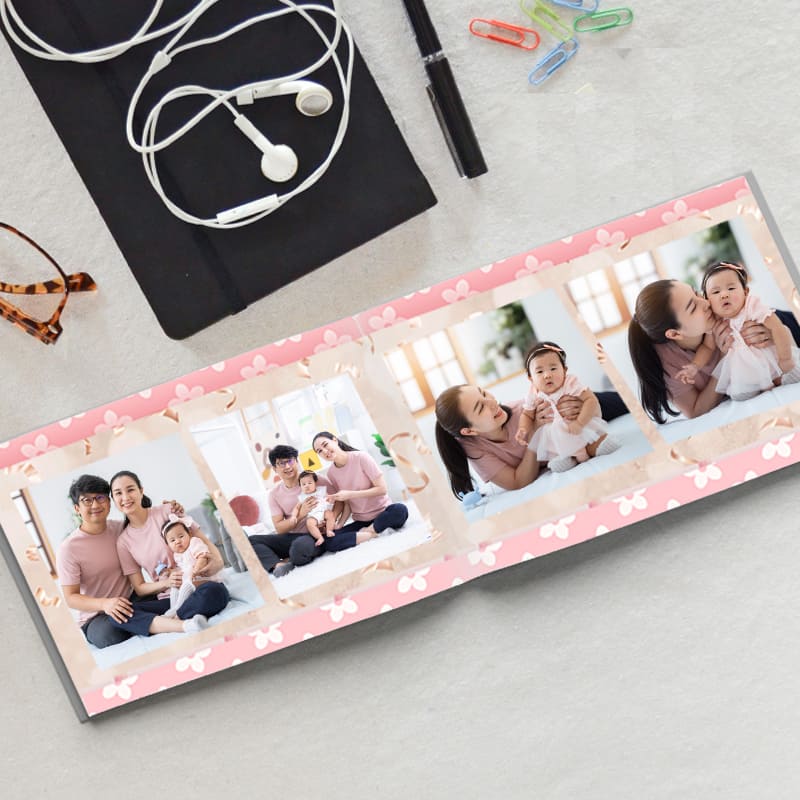 The best way to create a photo book or photo album for your baby girl is to go pink! After you have compiled all the adorable images, go in for a pink-colored photo book design. Additionally, you can select one that has a floral pattern with a few added embroidered elements, and also, consider adding some cartoon figures in them too.
When making a baby girl album online, you will likely find several presets that are designed just for baby girls making it easier to pick and select.
10. How do you Make a Memory Book for Your Baby?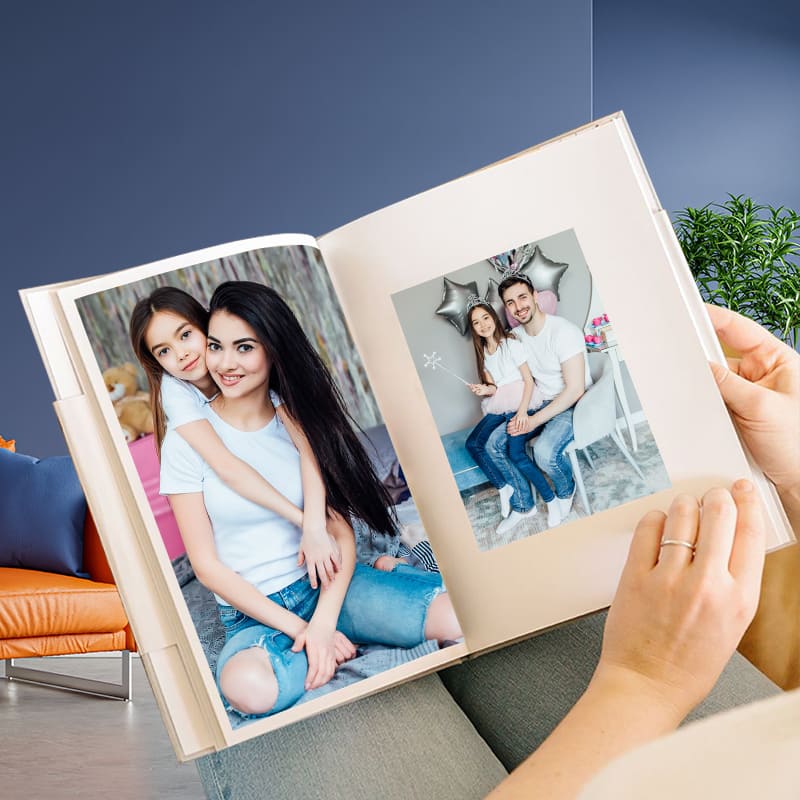 One of the best things about treasured memories is that it's something to look back on and cherish, and these memories need to be stored in a structured and flamboyant manner in the good old memory book. There is absolutely no doubt that your child will look back at their memory book to look at those precious details about themselves.
In order to make the perfect memory book, create and plan a timeline of events and attach the images accordingly. Along with specific times and dates, add a few extra details for each photo explaining what made that day even more special.
Add a sweet touch to the memory book by adding a family tree page, after all, we all would like to know where we came from. A newborn is always as special when he or she was unborn, so why not throw in a few pregnancy and ultrasound images, making the memory book even more special.
Conclusion
All in all, Photobooks are a great way to store your baby's first-year memories forever. They can be custom-made to suit your imagination and can essentially become a visual time capsule that your child can look at when he or she grows up.
To add to this, photobooks also make great gifts to let your loved ones know that you are thinking of them. That said, a photo book can also be a reward to yourself for being amazing parents.